Contact:Nancy.tan
TEL:86-512-63212787-808
Fax:86-512-63211760-812
E-mail:nancy@shdsx.com
Address:No.108 of South Tunpu Road, Tongli Town,Wujiang District,Suzhou,Jiangsu Province,china
Zip:215216
Country/Region:China (Mainland)
Province/State:Jiangsu
City:Suzhou
Stainless steel air shower room
Products name:

Stainless steel air shower room

Products nubmer:DSX-SSAS3
Products Exhibitors:DSX
Product Documentation:
a brief introdction
Deshengxin Stainless steel air shower room is an essential purification equipment used between clean room and common place. It can effectively blow away the dust adhered to the workers & the surface of objects. This can keep the clean room working regularly.
Stainless steel air shower room
的详细介绍
Wujiang Deshengxin Purification equipment Co., Ltd is a professional factory for manufacturing air cleaning equipments & parts such as Centrifugal Fan, Fan Filter Unit(FFU), air shower, Clean Bench, Biological Safety Cabinet etc. With elegant appearance, stable & reliable performance and reasonable price, our products will be your ideal choice!
Deshengxin use high quality stainless steel for our case of air shower and our stainless steel air shower will have following features:
using high quality stainless steel materials and advanced CNC machine to produce the box of our air shower. This can make sure our products with smooth and elegant surface.
using the fully visual glasses for our stainless steel door to make sure the strength & beauty.
Single side blowing and using photo-electric sensor to keep automatically blowing.
with electronic interlock and sanded stainless steel floor.
with DSX multiple stainless steel nozzle and low noise & large volume centrifugal fan.
Standar size and specificaton:



Model




Air shower

DSX-FL-1200

DSX-FL-1400

DSX-FL-1500

External dimensions (mm)

1200x1000x 2150

1400x1000x 2150

1400x1500x 2150

Dimensions in WxDxH(mm)

800x920x 1950

800x920x 1950

800x1400x 1950

Material for case

Cold rolled steel with powder coated , SUS#201 or SUS#304

Suitable person

1

1

2

Nozzles

6(one side)

12(two sides)

18(two sides)

Blow power(W)

1100

2200

2500

HEPA filter's dimensions

610x610x50 One piece

610x610x69 two piece

610x610x69 two piece

Nozzle diameter

30mm

Air shower time

0~99s Adjustable

Spurt wind speed

25m/s(+-20%)

Voltage

380V/50Hz/3Ph; 220V/50Hz/1Ph

hepa Filter efficiency

Above 99.99% efficient on 0.3um particles

Control system

LCD control panel, electronic interlock and automatic blowing
As a ProfessionalPurification equipmentmanufacturers ,we also manufactureStainless steel air shower ,air shower cleanroom,air shower tunnelair showers and pass thr ,air shower blower,air shower cleanroom,air shower clean room,air shower – clean room air shower,air shower booth。To know more about air shower clean room design,air shower booth price,Consult our factory trained experienced sales engineering staff for more details.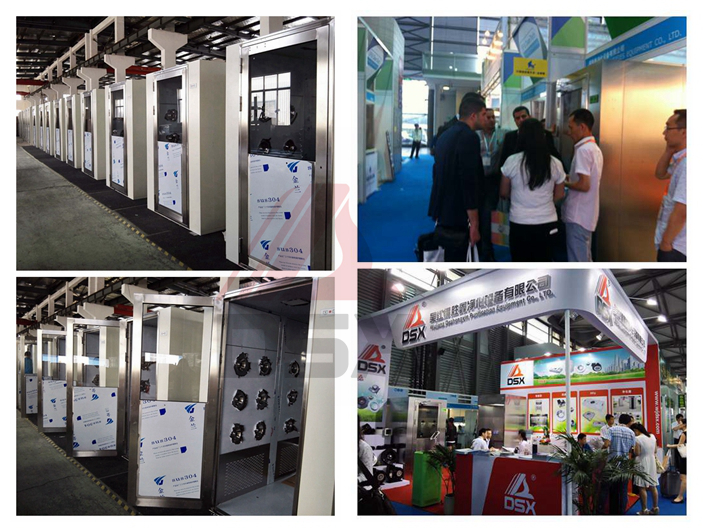 Google+