Contact:Nancy.tan
TEL:86-512-63212787-808
Fax:86-512-63211760-812
E-mail:nancy@shdsx.com
Address:No.108 of South Tunpu Road, Tongli Town,Wujiang District,Suzhou,Jiangsu Province,china
Zip:215216
Country/Region:China (Mainland)
Province/State:Jiangsu
City:Suzhou
clean room/ operating room/ Pharmaceutical pass box
Products name:

clean room/ operating room/ Pharmaceutical pass box

Products nubmer:dsx-pb01
Products Exhibitors:DSX
Product Documentation:
a brief introdction
DSX clean room/ operating room/ Pharmaceutical Pass Box is a kind of assistant equipment installed between the area which has different clean levels of clean room, is mainly used to transfer goods. It can reduce times of opening door, prevent the air convection between different rooms and minimize the pollution extent.
clean room/ operating room/ Pharmaceutical pass box
的详细介绍
DSX(Deshengxin) offers a wide variety of sizes and construction materials in order to offer the most customized and affordable product for each individual need.
Features:
1.Photoelectric sensor,automatic blowing
2.Designed with circulation wind to ensure the cleanness of shower area under non-shower status
3.Double doors with electric interlock
4.LED display with adjustable blowing time(0~99min)
5.HEPA filter, Class 100 cleanness
MODEL

DSXPB-500-E

DSXPB-600-E

DSXPB-500-M

DSXPB-600-M

External dimension

W X D X H (mm)

690X580X640

790X680X740

690X580X740

790X680X740

Internal dimension

W1X D1X H1 (mm)

500X500X500

600X600X600

500X500X500

600X600X600

Voltage

1P,220V,50Hz/AC

Max.Consumption

45W

Power Cord(mm)

800L

External construction

Electrogalvanize Metal Sheet

Internal construction

SUS304

Colour

Polished White (optional)

Finish

Powder Coating

Wall Opening Size

W+10mm, H+5mm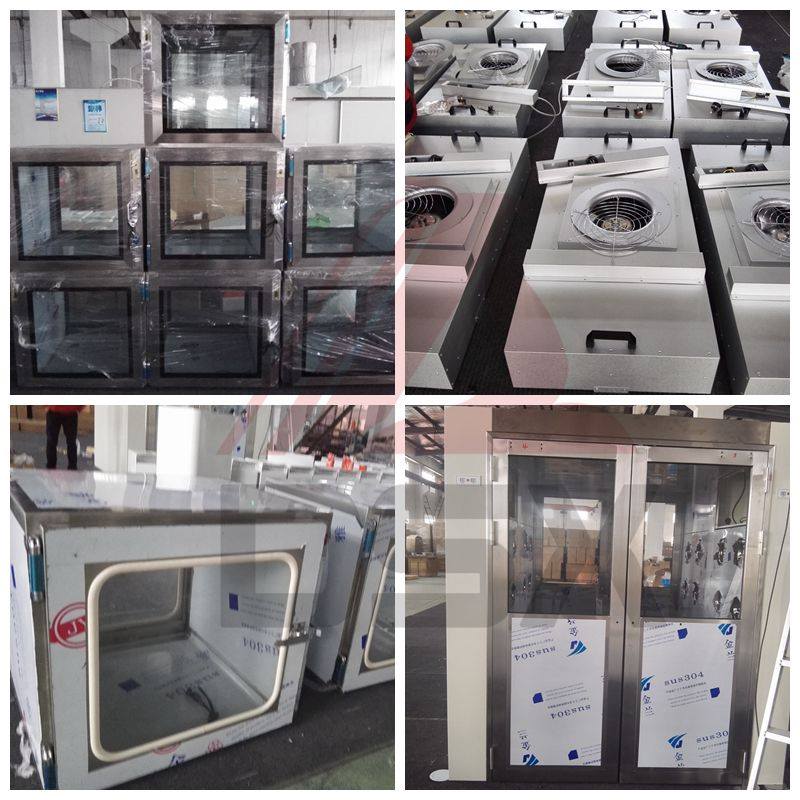 As a Professional clean room equipment manufacturers ,we also manufacture Cleanroom Pass Throughs,Dynamic Air Shower Pass Box , Dynamic Pass Box/ISO Horizontal / Vertical Clean Room Pass Thru Box,air shower tunnelair showers and pass thr ,air shower blower,air shower cleanroom,air shower clean room,FFU fan/Air shower fan/FFU/Air shower/Clean Booth/clean bench/weighing room/laminar hood/clean sampling vehicle/safety cabinet/HEPA/ FFU control/Pass box/Air Shower Pass Box/Clean Supply Unit(HEPA Box)/Clean Hand Dryer/Filters/Dispensing Booth for Clean Room,air shower – clean room air shower,air shower booth。To know more about air shower clean room design,air shower booth price,Consult our factory trained experienced sales engineering staff for more details.
Google+