Contact:Nancy.tan
TEL:86-512-63212787-808
Fax:86-512-63211760-812
E-mail:nancy@shdsx.com
Address:No.108 of South Tunpu Road, Tongli Town,Wujiang District,Suzhou,Jiangsu Province,china
Zip:215216
Country/Region:China (Mainland)
Province/State:Jiangsu
City:Suzhou
Thin type ffu Fan
Products name:

Thin type ffu Fan

Products nubmer:DSX-400-8
Products Exhibitors:DSX
Product Documentation:
a brief introdction
DSX-400 thin type fan is designed particularly for DSX thin type FFU.
When transforming the old clean room, the storey height is not high enough usually. In this case, the thin type FFU is necessary. This is the main reason for us to design this
DSX-400 thin type fan .
DSX, as an experienced manufacturer for fan and purification equipment, always insists on product researching and developing to provide new idea and advanced products.
| | | | | | | | | |
| --- | --- | --- | --- | --- | --- | --- | --- | --- |
| Item No | Volume | Total Pressure | Voltage | Frequency | Power | capacitance | Speed | Noise |
| DSX-400thin type fan | 1200 m³/h | 280Pa | 220V | 50HZ | 70W | 3uf | 1250/1200/1110r/min | 60 dB |
| DSX-400N6P | 2100 m³/h | 250Pa | 220V | 50HZ | 80W | 3uf | 950/900/850r/min | 57dB |
| DSX-400N4P | 2500 m³/h | 350Pa | 220V/380V | 50HZ | 120W | 3uf | 1100/1050/950r/min | 59dB |
| DSX-400N6P | 2100 m³/h | 250Pa | 220V | 50HZ | 80W | 3uf | 950/900/850r/min | 57dB |
| DSX-400N4P | 2500 m³/h | 350Pa | 220V/380V | 50HZ | 120W | 3uf | 1100/1050/950r/min | 59dB |
| DSX-355N | 1900 m³/h | 300Pa | 220V/380V | 50Hz | 75W | 3uf | 1350r/min | 60 dB |
| DSX-325N | 2000 m³/h | 300Pa | 220V/380V | 50Hz | 180W | 6uf | 1300 r/min | 60 dB |
| DSX-280 | 1000 m³/h | 250Pa | 220V/380V | 50Hz | 90 W | 3uf | 1400 r/min | 58 dB |
| DSX-500 | 3400m³/h | 350Pa | 220V/380V | 50Hz | 180W | 6uf | 920/900/850 r/min | 60 dB |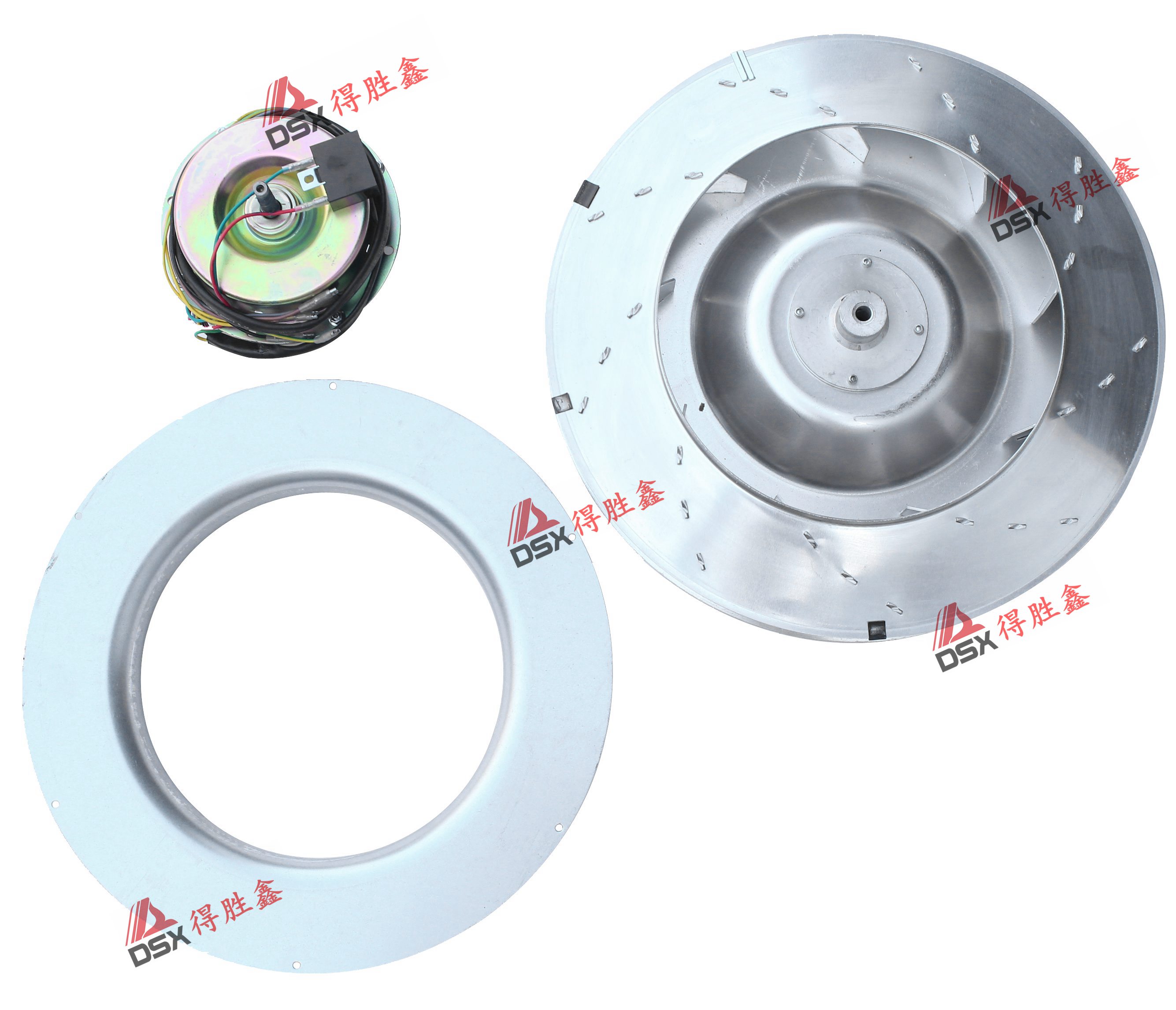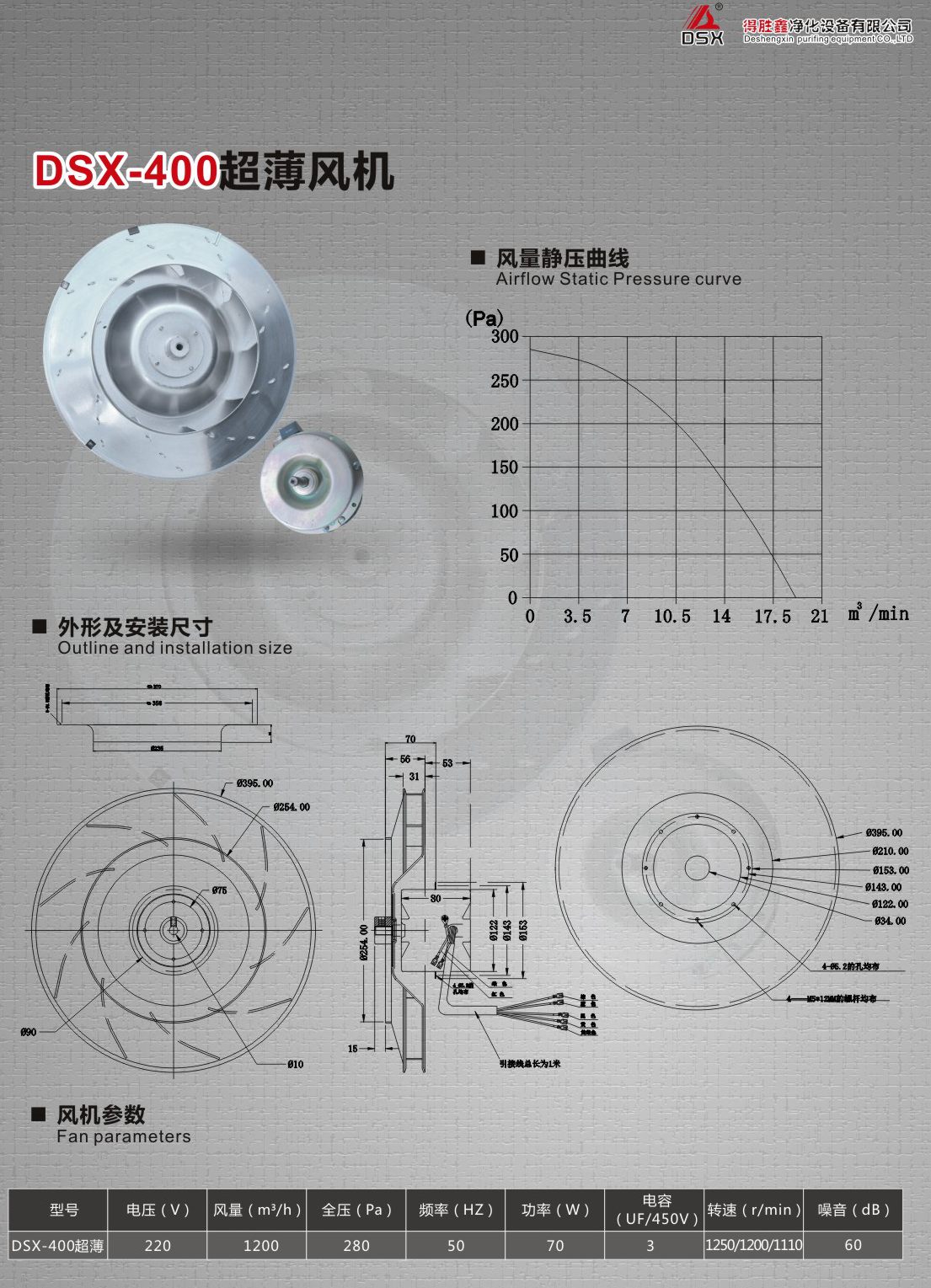 Google+