Contact:Nancy.tan
TEL:86-512-63212787-808
Fax:86-512-63211760-812
E-mail:nancy@shdsx.com
Address:No.108 of South Tunpu Road, Tongli Town,Wujiang District,Suzhou,Jiangsu Province,china
Zip:215216
Country/Region:China (Mainland)
Province/State:Jiangsu
City:Suzhou
Clean Room Air Shower
Products name:

Clean Room Air Shower

Products nubmer:DSXAS-1200
Products Exhibitors:DSX
Product Documentation:
a brief introdction
Clean Room Air shower is an essential air cleaning equipment used in clean room. Clean Room Air Shower is mainly applied to blowing away the dust adhered to the workers & the surface of goods.
Clean Room Air Shower
的详细介绍
Product Description

Cleanroom air shower is supporting equipment for clean room and workshop. It can remove the dust adhering of the operator. Automatic control system, electronic interlock and memorial automatic blowing can prevent dust into the clean room.
Air Shower can be divided into two kinds for different purpose, As for operator and AS for goods. It has various modes of showering from single-side,double-side or top. It is also equipped with various kinds of doors in manual,in auto or shutter etc.
DSX Clean Room Air Shower FEATURES
1) Automatic blowing
2) Electronic interlock (One door in open state, the other door must in close state. When people enter air shower, the system will shower automatically by photoelectric sensor)
3) intelligent air shower
4). Air shower time from 1 to 99 seconds which can be adjustable
5). Pre filter and HEPA filter
6) High quality
Clean Room Air Shower Material:
Outside case: 1.0mm or1.5mm cold rolled steel with powder coated or staniless steel(SUS#201 OR 304)
Inside case: 1.0mm or 1.5mm cold rolled steel with powder coated or staniless steel(SUS#201 OR 304)
Doors: SUS#201,SUS#304 or aluminum alloy
Base: SUS#201 or 304
Nozzles:SUS



Cold rolled steel with powder coated , SUS#201 or SUS#304

380V/50Hz/3Ph; 220V/50Hz/1Ph

Above 99.99% efficient on 0.3um particles

LCD control panel, electronic interlock and automatic blowing
DSX Clean room air shower case: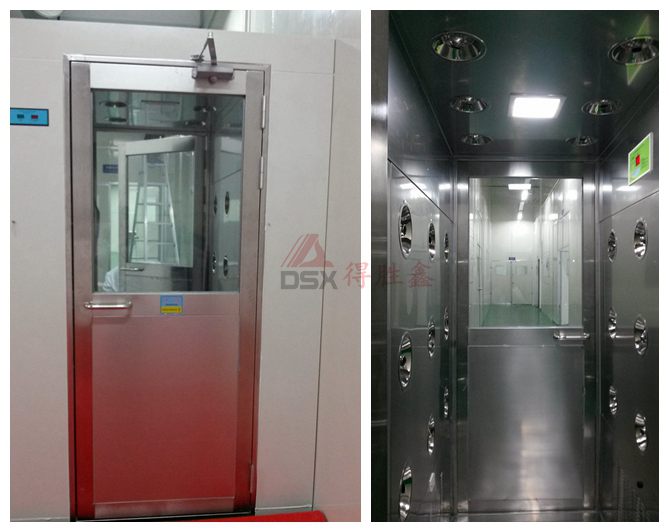 Our Certifications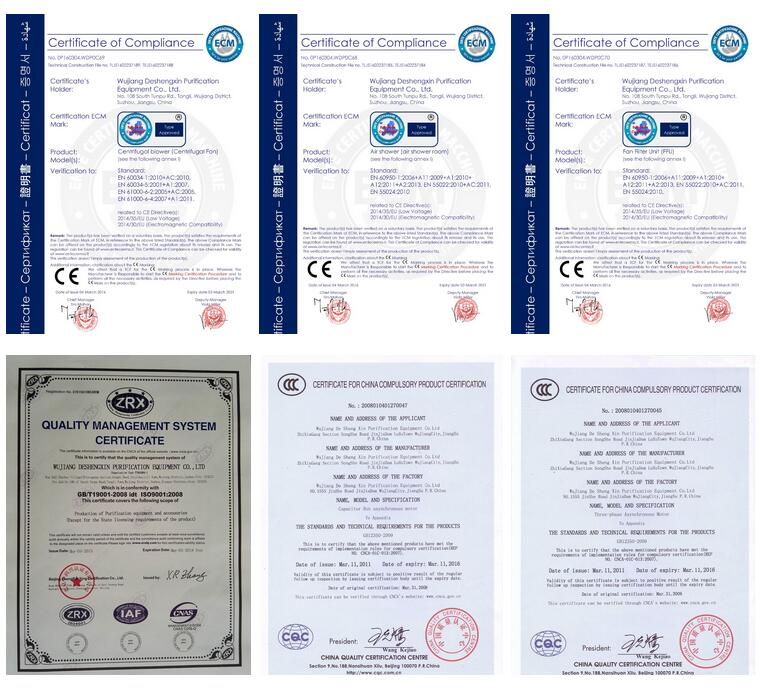 WORKSHOP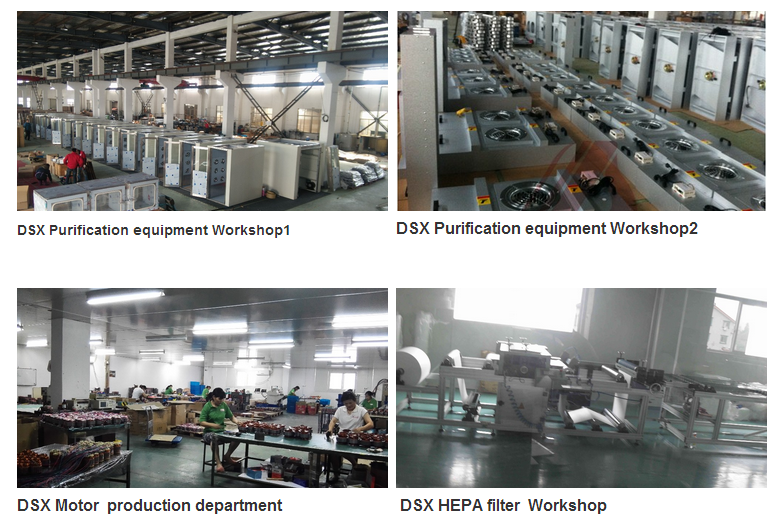 Packing & Delivery
Exhibition
WHY US?
1.Factory direct sale, OEM, ODM available , R&D department available .
2.Experienced manufacture, own provided motor, fan, enclosure etc., Controlling quality, price and delivery term much better.
3.Strictly testing equipment, full-experienced technicians ,quality guaranteed .
4.good after-sale service.
5.we are the ISO9001 approval enterprise. Our products obtain CCC and CE certificate as well.
We are looking forward to a long term business with you.
Google+