Contact:Nancy.tan
TEL:86-512-63212787-808
Fax:86-512-63211760-812
E-mail:nancy@shdsx.com
Address:No.108 of South Tunpu Road, Tongli Town,Wujiang District,Suzhou,Jiangsu Province,china
Zip:215216
Country/Region:China (Mainland)
Province/State:Jiangsu
City:Suzhou
Pharmaceutical laminar flow hood
Products name:

Pharmaceutical laminar flow hood

Products nubmer:
Products Exhibitors:DSX
Product Documentation:
a brief introdction
There is special flow channel and uniform flow system for Laminar flow hood of DSX.It has low noise and uniform velocity.
Pharmaceutical laminar flow hood
的详细介绍
DSX laminar flow hood has independent structure which can adjust at any time. It can make up poor maneuverability of clean room.
Features:
Laminar flow hood can flexibly install at the top of area which need partial clean environment.
The case of laminar flow hood can use wallboard powder coated cold rolled steel, or stainless steel as material.
The fan can be installed inside or outside of the laminar flow hood. The installation type can be suspension type or floor type.
Laminar flow hood can be used independently or combined together.
Laminar flow hood is easy for installation with low cost and instant efficiency.
Cleanness: inside working area ≥0.5m particle ≤3.5/L (FS209E100)
DSX laminar flow hood has low noise and easy for changing HEPA filter.
DSX laminar flow hood is widely used in precision electronics workshop and pharmaceutical workshop
Laminar flow hood can be applied to semiconductor circuit, electronic communication, photoelectric instrument, precision instrument, aerospace engineering, petrochemical industry, biological engineering, pharmacy, medical treatment, inspection and quarantine, food and drink industry etc. Laminar flow hood and other purification equipments are partial air cleaning equipments for different demands of clean environment. The cleanness of laminar flow hood and other purification equipments can reach to class 100(USA Federal Standard 209E). The efficiency of HEPA filter ≥99.99%@≥0.3μm.
Different specifications and size can be customized according to individuals' requirements!
1.DSX Suspending Laminar flow hood is a air clean equipment with Laminar flow supplying from the top,wich is designed for getting a local air clean environmet. It has the extensive applications for industries that have high requirements for local area cleanliness of Pharmaceutical machinery.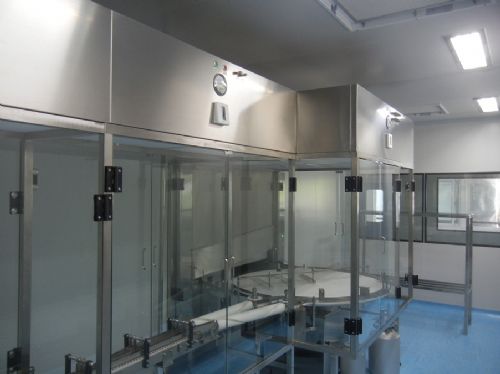 2. Scaffolding laminar flow cover
Google+